It's all good, though. The new girl's as cute as the dogs. Everyone, say hi to Willow.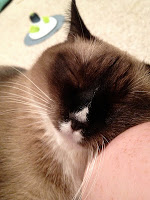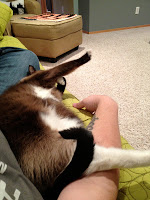 Her name comes from
Our Animal Friends at Maple Hill Farm
, because like the cat in the book, she's half-Siamese and beautiful.
We have a finished basement, so that's where we've started her out. She's already jumped the baby gate from my office to the family room, and again from the family room to the stairs up to the ground floor. Now she's mrowing at the top of the stairs, and she knows full well there are other animals up here. She just wants to be with us, the little sweetie.
Willow has moved forward much faster than our initial expectations had planned for. It's pretty exciting.