Packers versus Vikings? Badgers versus (I can barely say it) Golden Gophers? Pfft. How about Furthermore versus Surly in a badass beer-off? I happened to have both breweries' coffee beers in my refrigerator not too long ago, and thought it'd be fun to pit them against each other. Since there are two Wisconsin/Minnesota football matchups this weekend (and college hockey, too, with the Badgers faring well in both), what better time to see whose coffee beer kung fu is stronger?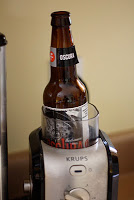 Furthermore Beer is brewed in Spring Green, Wisconsin--about 37 miles west of Madison--and it holds a place very close to my heart. Sure, a really good beer doesn't have to do a whole lot to find my soft spot, but Furthermore Oscura was one of the two beers Kristine and I chose to serve to our wedding guests.
The brewery describes Oscura as a "warm-fermented, cold-lagered cerveza oscura", which I guess is kind of like describing the color red by calling it reddish. Oscura is cold-soaked with whole coffee beans in more or less the same technique used to make cold-process iced coffee. This keeps the coffee sweet instead of bitter.
The beer criticism site Beer Advocate gives Oscura a B+, or "very good", average out of 134 reviews. A couple East Coast knobs gave it a D, which is probably screwing up the curve. As far as specs, it's a beer with relatively low bitterness and density, and a moderate ABV, so you can totally have it for breakfast.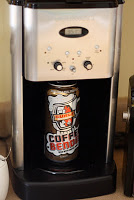 Where Furthermore is the home state beer with a schmoopy personal backstory, Surly is a flashy new toy that I'm developing an obsession with. After reading a handful of articles about the Brooklyn Center, Minnesota, brewery, I finally had the chance to drink some at Great Taste of the Midwest.
Surly is only distributed in Minnesota (similar to New Glarus in Wisconsin), so beers like Coffee Bender are only available to me when I know someone from Madison who's visiting the Twin Cities. Coffee Bender is brewed in the same fashion as Oscura (cold extraction), and is similar in terms of density, bitterness measurement, and alcohol by volume.
Furthermore is like the local band you love; Surly is the indie circuit smash hit. With all the press Surly gets, it's not too surprising that there are over 600 reviews for Coffee Bender on Beer Advocate; it averages an "excellent" A-, with only three D-level reviews. I point out the D's to demonstrate that these aren't really very polarizing beers. People generally like them. So how do they line up side-by-side?
I decided to be lab-precise with this, and open the beers at the same time, making notes as they breathed and warmed. Please remember: I am not a beer professional; my analysis may be completely for shit.
:03 after open and pour. First sip. What little head was there for the Oscura was pretty much gone. The body is thinner than for the Coffee Bender. The Oscura has some malty flavor along with the dark black coffee. The Coffee Bender retained its head, and its flavor was more of an espresso than black coffee. Coffee Bender also seems hoppier from the start, brighter.
:12 after open and pour. Wife samples both; likes neither.
:14 after open and pour. The zing has dissipated in the Coffee Bender. A sweeter flavor--malt?--emerges. The Oscurs holds strong.
:21 after open and pour. The coffee aroma of the Oscura is fading. It seems to be taking on some almost estery, banana-y flavors. The Coffee Bender is still strong with the dark side, and is leaving some moderate lacing on he glass.
:27 after open and pour. Wife, bound and determined to pollute the sensory environment, pops some popcorn.
:29 after open and pour. Oscura's lager characteristics are coming through now, with a little more of that pilsenery funk. Coffee Bender is largely unchanged by this nursing process.
:35 after open and pour. At this point, the coffee flavor of Oscura is really flagging, and Coffee Bender's profile is becoming reminiscent of a Coffee Nip. Neither appear entirely well-suiting to slow sipping.
:43 after open and pour. Oscura throws one last punch, with a blast of coffeeness at the end. Coffee Bender is finally shedding its coffee prominence, leaving mostly hoppy tang.
So, the verdict? I'm in Minnesota as I finish this post, so I'll be a little political. Oscura's original season is summer (though its popularity has expanded the production into a second season), so I'm more inclined to say that if you're out on the lawn, or a party late on a summer night on someone's deck or balcony, there could be nothing better than a cold bottle or pint brimming with Oscura's refreshing strength.
But, if you're more likely to be drinking a beer at a moderate rate, and maybe in the cooler months--like right now--then the year-round sweet, heady Coffee Bender is going to satisfy.
If you're my wife, this photo is more your speed.
I'll be political here, too, and say a cup of espresso would be just fine. You never want to start a border war with someone who sleeps right next to you.