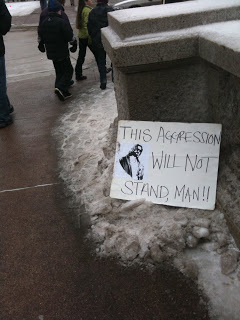 There just aren't enough hours in the day--there's so much to oppose, and so much to accomplish. The month started quietly, but by the end of the second week of February, it was clear this wasn't going to be like any other time in my life to date.
The new governor of the state of Wisconsin introduced a piece of shameful, cynical, vengeful legislation that promised to harm me and thousands like me, and wouldn't you know? That actually managed to turn my entire life upside down, eating habits included. My Arabic genes are screaming for me to call our protests a peoples' intifada -- just to throw the Fox Newsies into a tizzy--but I'll resist further temptation, and just call it an uprising.
Pre-uprising
My wife started February with a doozy of a cold. When she gets sick, she really feels it, and this required brothy countermeasures. Despite having lived a couple blocks away, we'd never been to Wah Kee Chinese Noodle and Restaurant until this month. Their noodle soups are terrific; American Chinese food staples like General Tso's, less so. I was also passive-aggressively schooled on pronunciation by our first visit server, which was particularly galling for two reasons. I normally try to be educated on basic pronunciation rules, and there was a typo in the menu that led me astray in one circumstance. Regardless, I recommend anything with BBQ pork--are you surprised?
A visit from an old friend brought us to Underground Kitchen again. Our server was a bit vacant, but the rabbit tagliatelle special (it was the night before Chinese New Year) was amazing, and the cocktails continue to impress. (A trip later in the month, unfortunately, featured some of the haughtiest and sloppiest service I've seen in Madison.) We also hit The Old Fashioned for their new weekday breakfast menu. Get there for it. Really. You can spend the money you're not spending at Ella's Deli there; I haven't ever been more unimpressed with a legend than I was with our meal of matzo noodle soup and hard salami sandwich.
The uprising
I'm certainly not going to say "post-uprising," because it's still happening, at this very minute on the grounds of the Capitol and all around the state. But on Valentine's Day was when everything really changed. And from that point forward, we've been protesting, and shouting, and paying attention to who supports us and who doesn't. We've enjoyed a couple meals at Mermaid Cafe, who has been donating coffee and other treats to the protesters (try the Erik the Red ham and Swiss). We've become familiar faces at The Old Fashioned. Hawk's Bar and Grill has been a great supporter and serves a heaping Mediterranean plate.
The Coopers Tavern is crowded and the service was iffy, but their Reuben is an all-star. They may not have the BL(F)T sandwich anymore, but the absence of fried tomatoes doesn't make Alchemy Cafe a bad choice; I'd never noticed their very promising cocktail menu before, but will give it more attention next time. And we did manage to eat off the isthmus once, meeting for a lunch date at Sushi Muramoto. It is seriously always good there; the fennel chutney was a new flourish on a familiar chicken katsu.
The best thing I ate
Sorry, pancakes at The Old Fashioned. Apologies, guong chow noodles at Wah Kee bibimbap at Graze (EDIT: whoops. you got a sneak preview of something from next month, and I didn't realize I'd omitted Graze). Maybe next month, steak torta at Antojitos El Toril. Even the now-emblematic Ian's mac and cheese pizza being donated from supporters worldwide can't beat out this month's best thing: the PBR-battered tilapia taco at King and Mane. They're fresh, they're satisfying, and they have pickled onions and chipotle mayo. I'm not lying--we've been there five times, almost exclusively for tacos (and beer), since the 22nd. My wife might love them more than me. We certainly love them more than Scott Walker, and we'll continue to fuel our chanting and fist-pumping with PBR tacos as long as we have to.
Show me what democracy looks like!