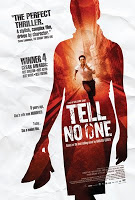 How does a thriller written in 2001 by a Jewish guy from Jersey get turned into a stylish French film in 2006? Hell if I know, butTell No One is just that thriller, and just that film.
Seeing the trailer forTell No One was easily the most valuable and enjoyable part of Netflixing OSS 117: Cairo, Nest of Spies, which just didn't do it for me.
Tell No One tells the story of Alexandre Beck (David Beck in the American setting of the original), a doctor whose wife was murdered by a serial killer. After showing these events at the open of the film, the narrative jumps eight years later, to the time when two bodies are discovered in shallow graves near the site of her abduction.
Click the links in this review with caution, as they may reveal plot details you'd want to learn as they are shown in the film. I know, I know, even the trailer tells a hell of a lot more than this, but I kind of want to leave this post sparse as to details.
I'll just say that Wikipedia's biography of author Harlan Coben reads: "The plots of his novels often involve the resurfacing of unresolved or misinterpreted events in the past (such as murders, fatal accidents, etc.) and often have multiple plot twists."
The cinematography is great, the acting is clear and crisp, and while the transition from French original to English subtitle left me wondering who was whom among the female supporting cast, the roles are all pretty vital to the story. Very little chaff in this flick. There are some changes from the original (if you've read it), but even the author says he likes the movie version better.
Watch this movie. Best one I've seen in a long time.