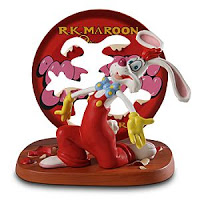 One of the best gags of Who Framed Roger Rabbit?, by the way. The fact that he can't hear any version of "shave and a hair-cut," whether spoken or percussed or hummed, without belting out the finale of the jingle. Predates Cartman's fixation on "Come Sail Away" by years and years.
ANYWAY, that's not why I'm writing today. I'm writing to tell you that, should any minor earthquake, small-engine plane crash, water main explosion, or ill-timed sneeze occur tomorrow, this might be my final blog post.
I'm getting a free straight-razor shave at Overture in conjunction with their coming production of Sweeney Todd, the Demon Barber of Fleet Street.
Rob Thomas from 77 Square got one last weekend, and for the first time in roughly 100 shaves, the barber made an errant slice.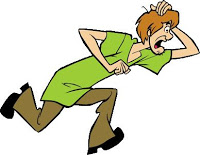 The barber is Stephen Baraboo, who recently opened Thorps barber shop on Atwood. I took note of this place last week during a run to Alchemy for a birthday party, and it looks cool. (Were I not hooked in to Blues on Willy, I'd consider it)
I'm not the most hirsute fella you've ever seen, so I'm hoping a shave of this nature isn't made more challenging by mediocre scruff. I'm going to be on 50+ hours of no-shaving, and I probably won't look much hairier than Shaggy's chin. My friend, who'll be dulling the razor before me, is a friggin' bear. We'll look like Lurch and Cousin It walking in.
Mostly, I kid. I'm not really concerned, nor do I think the barber's got a habit of dropping the razor. I feel pretty bad for him that it happened on-camera (watch the video though, it's fascinating to see such a small slip result in a cut like that). It's funny, because I don't have any interest at all in Sweeney Todd. But damned if I don't want to get a Bluephie's meat pie afterwards.